So the 2nd day of the month of Halloween is about halfway through and I feel as if so far I have properly embraced the fall/Halloween time spirit.
I have worn only Halloween themed shirts since the month began and I have at least 10 more shirts, a vest, and a dress in my closet before I have to start worrying about repeatsies.  And that's not including the fall-colored clothes which I think are an okay substitute if I should run out of Halloween clothes or have an event at which they are not appropriate (psh as if).
Looksy at my newest halloween shirt!
And yes those are the avengers on my shirt. Why? No Idea! But it's marvelous!!!!
I've also taken it upon myself to decorate for fall in my apartment with a lovely glitter leaf garland
I don't remember where on the internet I found the tutorial for this (I suppose you could good "glitter leaf garland diy" and find it) but I did tweak a little bit.  What I did was a went to Joanne's and got one of those fake leaf garlands in a fall color–for some reason there were also a couple of bunches of fake grapes on there too?– and started by pulling it apart. I threw away the grapes and kept the green vine-chain in case it might be useful for the teen council maze and snipped all of the stems off of the leaves. There may be an easier way to obtain stemless fake leaves but what is done is done and it didn't take very long (maybe an episode of Merlin).  Once I had all of my leaves I tried to flatten all the bent ones underneath random heavy flat things in my apartment like Graham's laptop and Graham's bill holder and such. This was met with mixed results as he needed to use those things before some of them were done flattening. Then I took the flat leaves, painted them with elmer's glue, and sprinkled glitter over them.
In order to prevent mess (sadly Graham is not the hugest fan of glitter EVERYWHERE) not only did I lay down newspaper but I also rigged a shoebox to let me pour the glitter that didn't stick to the leaves back into one of the glitter bags so I could sprinkle it again.  The garland I have used all of the orangey-silvery-goldy colors out of the 'fall colors' glitter sample kit at Joanne's.  I'm thinking of using the other colors (the purple and green and Halloweenesque ones) to make another leaf garland for the bedroom.  I have to do SOMETHING with all of these leaves floating all over the apartment now.
And I made spider pizza! I ended up adding more cheese and pepperoni but I wanted to get a good picture of the olive spiders. This idea also came from Pinterest, although I had to figure out how to make it happen myself since there were no instructions.
Last but not least, My first costume of the year is almost complete! A couple of years ago a big group of us dressed up as the Rocky Horror Picture Show cast when we went to watch Rocky Horror on Halloween weekend.
I dressed up as Columbia (on the right), my roommate was Eddie (next to me), my friend Liz was Frankenfurter, and on the left is my boyfriend of the time Matt as Rocky (he was braver than the rest of us).
The most memorable part of my costume was the glitter coat. Columbia has a gold sequin coat but it costs money to get a gold sequin coat apparently. And since I was making 3 or 4 other costumes that year I was running low on money.  It doesn't show well in the picture but what I decided was a good idea was to take a suit jacket from a thrift store and spray paint it with gold glitter fabric paint. I know glitter sheds everywhere, but I was thinking fabric paint would mostly stay on fabric right? Wrong. There was glitter all up and down both sets of stairs to the apartment, in the apartment, in the gas station near the apartment where we went for Mt. Dew, in the theater, ALLLLLLLL over the backseat of Shannon's car (she should have known not to let me in the car by then) and I think there is STILL glitter in the backseat of her car despite her best efforts to clean it.
The staff loved our outfits and we got free pins!
So this year I decided I wanted to upgrade my costume and at least Stephen and I can go back in costume. I don't think we'll ever get Liz in the Frankenfurter costume again (tho I will ask) and obviously Matt is a no go since we broke up and he moved to Michigan.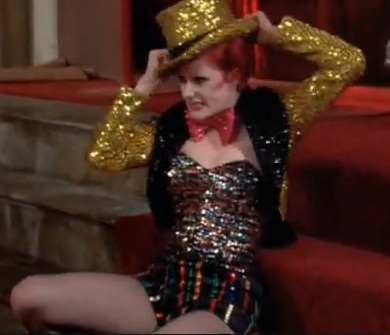 This is what Columbia looks like btw.
And this is what my costume looks like as of now!
I just got the top today which is why I'm so excited >_<.
I still need to revamp the hat and actually find red hair this year.  Also I have to dig out my bowtie but that shouldn't be too hard. The only thing I don't super like is that the top is a crop top and my stomach is not fit to be seen at this time so pending a bunch of exercise and trying to not laze around every morning like I've been doing I have a tank top on underneath the top to cover that gap. But I'm still excited by all the sparkles!
Sparkles!!!!!!!!!!!!!!!!!!!!!!!!!!!!!!!!!!!!!!!!!!!!!!!!!!!!!!!!!!!!!!!!!